The next phase of our project to reorganise reports has arrived.
Rather than split them into the rather arbitrary categories of "General", "Sales", "Finance" and "Marketing", with all sorts of stuff ending up under "General", we've split them by the role of the person who might need to use them: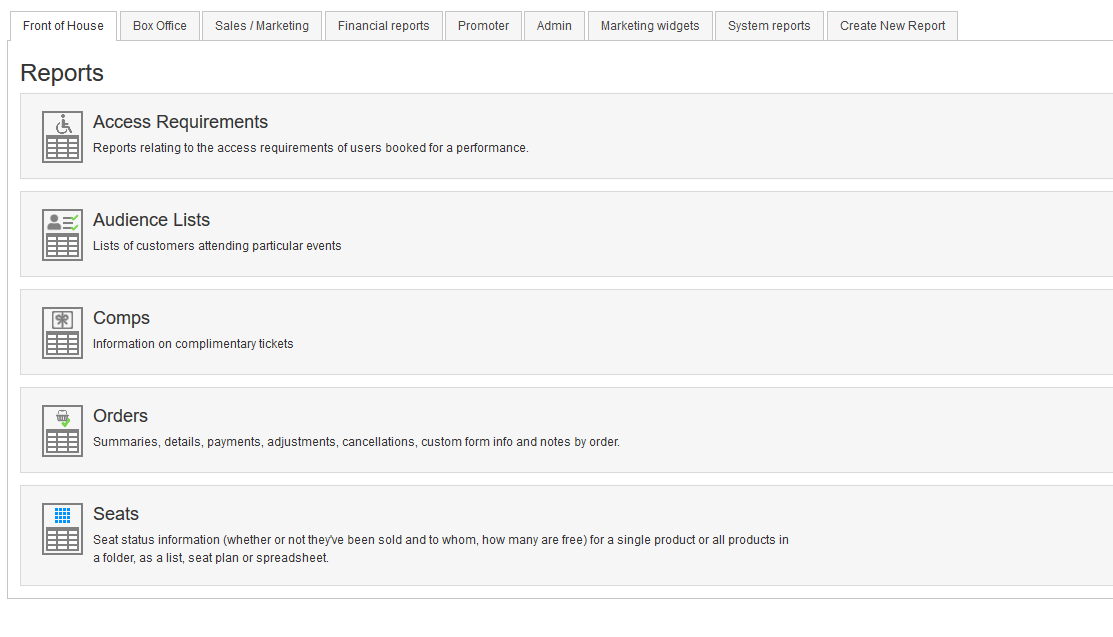 So - in the Front of House section are all the reports you might need on the night - lists of everyone in the audience, and people with special access requirements, comps, VIPs, etc.
In the Box Office section are reports that make a box office operator's life easier - reports that show you which products still have lots of adjacent seats next to each other, lists of reservations, etc.
In Sales / Marketing are report to tell you how well shows are selling and how much impact your marketing spend is having.
Financial Reports are much as they were - reports which deal with allocating income to the correct ledger codes in the accounts system, which mostly deal with whole orders and filter by order date but not (so much) by event date or show.
Promoter contains reports for sending to promoters - that is, reports that contain the information that you need if you are a promoter. Mostly sales returns, plus some specialised versions of other reports that return only shows where the promoter is set to be the account you're currently logged in as.
And Admin has the rest.
The version with these reorganised reports will be going live shortly, and this is your heads up as I know how jarring it is to log in in the morning and find that everything has suddenly changed.
ALL THE SAME REPORTS STILL EXIST - we haven't added or deleted any - and the search function still works. The next phase of this project will be to go through the existing reports and work out which ones should be consolidated, and which ones should be changed to make them more consistent with other reports in the same category.